Join Date: Apr 2007
Posts: 528
Mentioned: 0 Post(s)
Tagged: 0 Thread(s)
Quoted: 0 Post(s)
LED info, FAQs, tips and tricks
---
There always seems to be a lot of discussions about leds ranging from how bright, what kind, color, price, style, conversion, etc. So I thought I would do a simple write up about it to try to answer some of these questions.
1. LEDs as turn signals; flashers and load resistors to stop hyperflashing.

LEDs will most likely make your factory flasher hyperflash. The reason is that leds draw so little power that the flashers sees a smaller load and flashes quicker to suggest a bulb is out. There are always questions about what to use, resistors or flashers to stop this. Well it depends. I always like new flashers because they do not build heat like load resistors do.
Link to see both
For 2000 Dakotas and below
you can use flashers. For 98-2000 you need a flasher like the EP-27. 97 and older need to check because they are not all the same.
For 2001 Dakotas and up
you have to use load resistors. These do not use a typical flasher. Load resistors are wired in parallel with one or more bulbs. Something to note is that load resistors do build heat quickly, that is why they have such large heat sinks on them. They can get extremely hot so you have to be careful how you mount them. The most important thing to do is to mount them on the front turn signals, EVEN IF you are replacing your rear brake/turn signal bulbs. This will keep them from building heat when you are in stop and go traffic and constantly using the brakes.


2. Color issues to be aware of before buying.
LEDs are not like typical bulbs. They do not produce a broad spectrum of visible light like a normal bulb or the sun does. This is something to remember when replacing bulbs in housings with colored lenses, ie: red tail light housings, or amber turn signal housings. You DO NOT want to use a white led cluster in this case in hopes of it producing a brighter light through the colored lens. You SHOULD use leds that are the same color as the lens you are installing them in. This quote from superbrightleds.com explains it well:
Quote:
For best results the LED color should be the same as the lens color. As an example: a red lens will filter out all but the red portion of the light so if the light is all red, none or very little light will be blocked by the lens. The light from a White LED contains very little light in the red portion of the visible spectrum so most of the light would be filtered out by a red lens.
A white led is usually just a blue led with a phosphorus filter over it so it will show up as white. The blue spectrum of visible light is a long way from the red spectrum. You will have a much brighter light output if you use the proper color led. If you take apart a factory led housing that is in a colored lens the leds will be the same color as the lens.
3. More leds do not always make a brighter bulb.
Just because an led bulb has more leds than another bulb, it will not make it brighter every time. There are several things that come into play here.
i. Type of LED:
All leds are not the same. A 3 watt luxeon LED will be much brighter than your typical led.
ii. Viewing angle:
LEDs are rated by viewing angles. This represents how far of an angle from directly over top can you see bright light. Narrow viewing angles will produce a light that is bright from straight on but nothing to the sides. Wide angle ones will produce a more even light distribution so you can see it from different angles.
iii. Quality:
All LEDs are not created equal. You need to be careful of cheaply made LEDs as they will be more likely to burn out and usually dimmer.
iv. Placement:
Up until now the characteristics described may be hard to know until you actually buy them. Sometimes they will not have that information and you will have no way of knowing. HOWEVER this characteristic is by far the most important and easiest to see. Because leds produce light in a narrow direction when compared to a regular bulb, you have to be careful what kind you buy.
This bulb has all 24 leds facing one direction.
Even with wide angle leds most of the light will be directed only out in the direction they face. There will be nothing to fill the light housing's reflector. Instead you will be left with a dot of light.
This bulb has leds over the entire bulb facing different directions.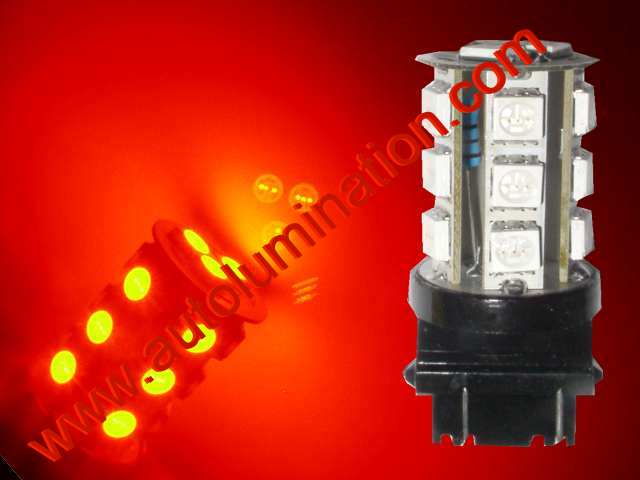 They will reflect light off the housing's reflector and fill the entire thing with light more like a regular bulb does. It will typically be much brighter even with only 18 leds on it because of it filling the housing so well.
One more thing to note about style and placement of them in realtion to number:
This bulb contains only 13 leds. However they are not typical leds but clusters of leds. Each one has multiple diodes in each little lens. They typically range from 2-6 in one little led. It produces a very bright light that is spread over a wider bigger led lens.
I will post more info later. Also feel free to ask questions or add something yourself.
---
Last edited by brightwhiteR/T; 07-19-2007 at

02:11 PM

.
Join Date: Feb 2007
Posts: 3,327
Mentioned: 0 Post(s)
Tagged: 0 Thread(s)
Quoted: 0 Post(s)
Simple hell, you went all out!!!!!!!! But hey, I learned something, 'preciate it!!!!!!!
Forum Member
Join Date: Dec 2007
Location: Lafayette, Indiana
Age: 37
Posts: 367
Mentioned: 0 Post(s)
Tagged: 0 Thread(s)
Quoted: 0 Post(s)
---
To view links or images in signatures your post count must be 10 or greater. You currently have 0 posts.
Quote:
now why did you go taking the dash out? did you paint it??
Quote:
Nope I was just bored....lol
To view links or images in signatures your post count must be 10 or greater. You currently have 0 posts.
Join Date: Apr 2007
Posts: 528
Mentioned: 0 Post(s)
Tagged: 0 Thread(s)
Quoted: 0 Post(s)
You dont want to use those. they only shine straight back. I have tried a set of those and without the light shining to the sides, you just get a tiny dot of bright light. Its incredibly hard to see in the day time and and quite annoying at night. I am still using the ones I posted above, the 13 led cluster ones from ebay seller VLEDs. They also sell a set that cost twice as much and are even a bit brighter.
---
Last edited by brightwhiteR/T; 04-27-2008 at

04:55 PM

.
Senior Member
Join Date: Apr 2009
Location: Tennessee
Age: 29
Posts: 355
Mentioned: 0 Post(s)
Tagged: 0 Thread(s)
Quoted: 0 Post(s)
Anybody know what the best LED is for the interior map/dome lights?
---
2001 Dakota SLT QC 4x4 4.7L:
3" Catback Magnaflow Exhaust/545RFE Transmission/SUPERCHIP PROG./RhinoLiner Bed/Blaupunkt THA 475/Michelin LTX 265-70R16/KYB Monomax Shocks/Clear Corners/3" PA Body Lift
T-Bar Crank/BFG ATs

To view links or images in signatures your post count must be 10 or greater. You currently have 0 posts.

Posting Rules

You may not post new threads

You may not post replies

You may not post attachments

You may not edit your posts

---

HTML code is Off

---