I have received a number of inquires in regard to the "Custom HiPoTek Magnum OEM Big Bore Throttle Bodies".
So in response, these throttle bodies are currently available, or can be made availble for the V6 (3.9L) and V8 (5.2/5.9/390Stroker/408 Stroker) Magnum engines. They are precision machined on a mill and lathe which provides true and identical matching bores that can't be obtained modifying the throttle body by hand. They are available with a smooth taper bore, are radiused at the top, the throttle shaft is milled on both sides for increased flow, both sides of the throttle shaft are retained to prevent flexing or possible breakage while under boost, they utilize low profile stainless steel button head throttle plate screws, the butterfly plates are custom machined (not stamped) from T6061 aluminum, have the correct screw hole offset, the correct distance between mounting screws, the correct angle at the margins, and are set with the correct clearance in relation to the desire bore diameter, with the correct elliptical shape to perfectly fit the modified OEM throttle body. I can also machine a custom size TB upon special request. Comes with gasket and low profile streamlined button head screws.
53mm Throttle Body
52mm Throttle Body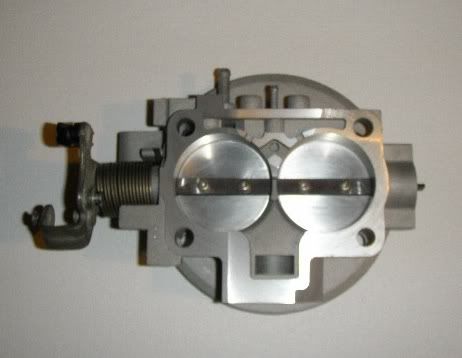 52mm Throttle Body
52mm Throttle Body
I am offering the modified high flow OEM TB's as follows:
V6
(42-46mm): $174.95 + $30 core + $10 shipping US
V8
(50-52mm): $174.95 + $30 core + $10 shipping US
V8
(>52 – 53mm): $214.95 + $30 core + $10 shipping US
You can ship me your throttle body for modifications or buy a unit outright plus the core charge. If you later send me your throttle body (identical to what you bought in good, usable, unmodified condition, and without damage) I will refund the core charge once I have received your core and am assured it is usable, unmodified, and without damage. I will check the condition right away and issue an immediate $30 refund if it fits the criteria mentioned above.
Once I receive your core, I anticipate up to 2 weeks for the completed unit ready for shipping but it may take less time. It is also subject to core availability so it is advisable to check with me first.
Descriptions:
50mm TB:
The 50mm throttle body is recommended for 5.2/5.9 stock or towing. Better performance throughout the entire rpm range. Also great for a modified 3.9L V6.
50mm Throttle Body For Dodge 5.2L/5.9L V8 or Modified 3.9 V6 Magnum 1996-03--SHIPPING INCLUDED
52mm TB:
The 52mm throttle body is recommended for the 5.2 modified and 5.9 mild to modified with camshaft and head upgrades, performance intake, etc. Works well with light to moderate boost. Also 390/408 stroker towing. A good balance between low end torque and high rpm power with great midrange. A good street/strip throttle body.
52mm Throttle Body For Stock or Modified Dodge 5.2L/5.9L V8 Magnum 1996-03--SHIPPING INCLUDED
53mm TB:
The 53mm throttle body is recommended for highly modified 5.9 or 390/408 stroker with higher performance camshaft, ported big valve heads, performance intake…or with boost. Really produces great midrange and high rpm power. No problem with lower rpm torque providing your combination is set up correctly with gear and stall convertor. A great racing throttle body.
53mm Throttle Body For Dodge 5.2L/5.9L Stroker V8 Magnum 1996-03--SHIPPING INCLUDED