Discussion Starter
·
#1
·
Well new here.
I just got a 00 Dakota, which I pick up Thursday, and I figured I'd be better off using this board, along with the s10forum.com for my jimmy(username is xloud9t5gmcsuvx).
I have a 95 Jimmy thats my daily, and i try to fix up, but things always get worse. No fun since its 4wd either. Also a 99 GSX-R 600.
I work at stylinconcepts in sales and training.
So this makes things easier for me.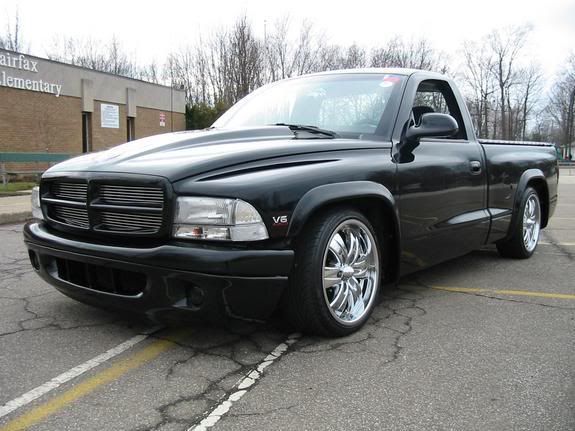 Thats the new guy to the family. It's bagged. Doesnt lay frame in front due to clearance issues w/ the control arms. Back would, but its not fully tubbed for wheels.
It's fully shaven in the back of it. Tails and all. Has a Line of Fire for the brakes which I know I'm getting in trouble for.
Tweeded interior. Not the cleanest, but it's decent. Got the vents above the HU shaved and gauged glassed into it, but the whole dash need painted. Need an airbag or a billet steering wheel. I might jus throw a blown bag w/ a screen in it.
Nothin really done to the engine, it has some jake intake from a camaro on it, and its gonna get swapped out soon. Also air has been taken out.
It's a 5 speed Manual too which i miss.
If any one has a spare vent that fits the one on the left of the speedo, an air bag, or center jump seat let me know.
I'm sure I'll post/chat w/ you all soon enough.