Discussion Starter
·
#1
·
Has anyone here every delt with B.A.D.? I've tried to contact them because I really want this wheel, but they have yet to get back to me. It looks like the last time their website was updated was 2008...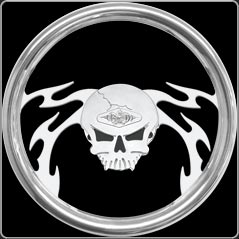 My second option is to go with the Airbagit.com wheel, but it isn't as nice, plus it is a 6 hole wheel, and I have a 9 hole adapter.
I have searched everywhere for a 9-6 hole adapter for this thing with no luck. Anyone know where I can find an adapter? I really want to stick with the skull as a horn to go with the rest of the truck, but I am starting to wonder if I should just deal with a kinda plain wheel from Billet Specialties...
Just looking for any suggestions out there...maybe I should have made this a poll, lol